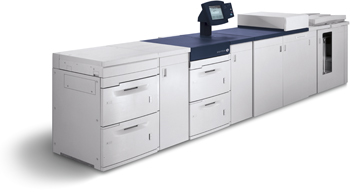 Having access to the latest advancements in digital printing technology enables us to offer you a myriad of digital printing solutions. We use digital printing for personalised marketing materials, short printing runs of marketing material and office stationery as well as overprinting for personalised direct mail and essential mail pieces.
One benefit of digital printing is that the jobs can generally be turned around a lot quicker than offset printing. This is due to the fact that digital printing does not use plates, prints straight from a computer file and thus reduces steps in the printing process. So if you have an urgent job that can't wait we can get it digitally printed for you.
Another benefit of digital printing is that it allows you to implement variable data printing of images and text on marketing material so you can tailor your message to your customers, clients and prospects. Studies have shown that the use of variable images and data out perform generic mail items.
You can also personalise items such as calendars, specialised packaging, just about anything else that can be printed.
Some of the things that we can digitally print include:
Direct mail pieces
Essential mail over printing
Personalised packaging
If you would like to discuss your printing needs or require a printing quote give us a call now on 02 4306 0583.